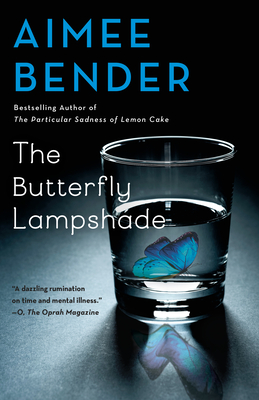 The Butterfly Lampshade: A Novel
Publication Date:
June 8th, 2021
I absolutely loved reading The Butterfly Lampshade. We're escorted through Aimee Bender's novel by Francie, who as a child is removed from her mother's care because of mental illness. Throughout the story, Francie questions her own sanity as she deeply believes she witnesses phenomena that defy nature. Increasingly, she withdraws from the world, owning next to nothing and working hard to remember the events of her life. This book and this amazing character are astonishing.
August 2020 Indie Next List
Description
The first novel in ten years from the author of the beloved New York Times bestseller The Particular Sadness Of Lemon Cake, a luminous, poignant tale of a mother, a daughter, mental illness, and the fluctuating barrier between the mind and the world
On the night her single mother is taken to a mental hospital after a psychotic episode, eight year-old Francie is staying with her babysitter, waiting to take the train to Los Angeles to go live with her aunt and uncle. There is a lovely lamp next to the couch on which she's sleeping, the shade adorned with butterflies. When she wakes, Francie spies a dead butterfly, exactly matching the ones on the lamp, floating in a glass of water. She drinks it before the babysitter can see.
Twenty years later, Francie is compelled to make sense of that moment, and two other incidents -- her discovery of a desiccated beetle from a school paper, and a bouquet of dried roses from some curtains. Her recall is exact -- she is sure these things happened. But despite her certainty, she wrestles with the hold these memories maintain over her, and what they say about her own place in the world.
As Francie conjures her past and reduces her engagement with the world to a bare minimum, she begins to question her relationship to reality. The scenes set in Francie's past glow with the intensity of childhood perception, how physical objects can take on an otherworldly power. The question for Francie is, What do these events signify? And does this power survive childhood?
Told in the lush, lilting prose that led the San Francisco Chronicle to say Aimee Bender is "a writer who makes you grateful for the very existence of language," The Butterfly Lampshade is a heartfelt and heartbreaking examination of the sometimes overwhelming power of the material world, and a broken love between mother and child.
Praise for The Butterfly Lampshade: A Novel
"Aimee Bender's Latest Is a Proustian Reverie.  A surrealist memory box of a novel. . . Its particular quality of stillness hums with so much mystery and intensity that the book never feels static. It is a measure of the book's success that as I reached the conclusion, I felt considerably more altered by the experience than I often am by novels that travel much further from their beginnings. . . The novel [is] a kind of small-scale, supernatural Proustian reverie: Proust if what Proust had been trying to recover was not luminous, ordinary reality, but a rupture in luminous ordinary reality.. . . One finishes the novel with the eerie sense that we too are objects who have slipped accidentally into being and that, like the butterfly, the beetle and the dried rose, we really ought not to be here."
–Kevin Brockmeier, The New York Times Book Review (Editor's Choice)
 
"[a] dazzling rumination on time and mental illness. . . Bender has a gift for rooting wonderfully inventive fables in a very recognizable, walkable world [and the] middle-class Los Angeles of backyards and hatchbacks, bus stops and craft shops, is overlaid with mythic events—modest miracles, observed by few, that expose a world of mystery. . . [Francie's] receptiveness to the marvels eddying around brightens every detail in a small, deeply felt life.
–Anne Stringfield, Oprah Magazine
[A] poignant novel of love and mental illness.
–Barbara VanDenburgh, USA Today
 
"A poignant, emotional story sprinkled with magic"
– Woman's World
 
"[An] astounding meditation on time, space, mental illness, and family. . . Rich in language and the magic of human consciousness, Bender's masterpiece is one to savor."
–Publisher's Weekly (starred review)
"Woven through with unexpected images and unexplained phenomena, Bender's novel is a moving meditation on choosing a positive future while acknowledging the circumstances of one's past."
–BookReporter