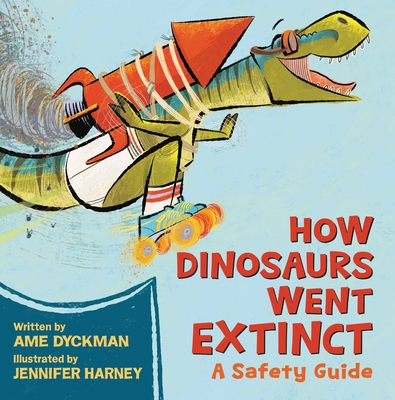 How Dinosaurs Went Extinct: A Safety Guide
Publication Date:
April 18th, 2023
Publisher:
Little, Brown Books for Young Readers
Usually Ships in 2 to 5 Days
Hilarious! Take every warning you've ever been given as a child, from wait a full hour after eating before swimming to don't run with scissors, and you have this side-splittingly funny alternative to how dinosaurs went extinct.
May/June 2023 Kids' Indie Next List
Description
From author Ame Dyckman and illustrator Jenn Harney comes a hilarious faux-cautionary tale featuring dad jokes and tantrum-throwing dinosaurs!
 
In this outrageous "safety guide," a child in a museum asks their parents how the dinosaurs all became extinct. Well, their father has some theories. Gallimimus? Ran with scissors. Ankylosaurus? Tipped in their chair. Spinosaurus? Swam after eating. Tyrannosaurus rex? Didn't change their underwear. By the end of the story, the child vows to never do any of these "dangerous" things again. Those dinosaurs should have been more careful!
This off-the-wall picture book written by New York Times bestselling author Ame Dyckman with uproarious illustrations by Jenn Harney will have kids laughing out loud as they see dinosaurs getting into some all-too-familiar hijinks.
Praise for How Dinosaurs Went Extinct: A Safety Guide
A Kids' Indie Next List Pick
A Barnes and Noble Reads "50 Best Books to Bring to a Baby Shower" pick
An Amazon Best Books of April 2023 pick
* "Visual humor abounds in this delightful laugh-out-loud picture book…Share this for an especially spirited story hour."—The Bulletin for the Center for Children's Books, starred review
"Harney's energetic art buoys the drama of the hilarious, untimely ends.... Dinophiles will rejoice; storytimes will be even sillier."—Kirkus
"Dyckman's wacky, over-the-top humor is paired well with Harney's exuberant…illustrations."—Horn Book
""Dyckman…conjures up a dinosaur-based strategy with sky-high stakes." —Publishers Weekly
"Young dinophiles, once they stop chortling, will get the point."—Booklist