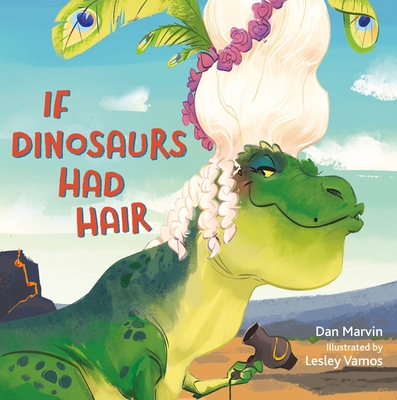 If Dinosaurs Had Hair
Publication Date:
October 11th, 2022
Publisher:
Roaring Brook Press
Usually Ships in 2 to 5 Days
Description
This laugh-out-loud picture book by Dan Marvin, with tongue-in-cheek art by Lesley Vamos, is an irreverent exploration of what it might've looked like if dinosaurs had lusciously stylized 'dos.

What if dinosaurs had . . . hair?
Curled, crimped, feathered, and permed, this book imagines the wealth of colors, styles, and hair textures the Jurassic Period might have had to offer. As well as their epic hair warfare.
But as with any great battle, one hairstyle must have risen above the rest—one that literally blew these dinosaurs away . . .
Author Dan Marvin has crafted a hilariously escalating story that begs to be reread, and illustrator Lesley Vamos brings eye-catching dynamic color and personality to this picture book. If Dinosaurs Had Hair brings the dinosaurs back to life in full color.
About the Author
Dan Marvin grew up in the Big Bangs period of the 1980s. These days, he can be found in Michigan, once known for its woolly mammoths. He shares a hairbrush with his wife, son and daughter. But not with their two dogs, even though they're woollier than mammoths.
Lesley Vamos received a high distinction in BA Design at COFA with a special honorary award in animation, although she still holds a pencil incorrectly. She spends her time doodling, traveling, running her design and illustration business, and hanging out with her little family. She resides in Sydney, Australia. Lesley is the illustrator of Lou Lou and Pea and the Mural Mystery.
Praise for If Dinosaurs Had Hair
"A fashionable world of prehistoric vanity." —Publishers Weekly
"[A] book that will be read and reread often... A laugh-out-loud, dino-themed farce." —Kirkus Reviews