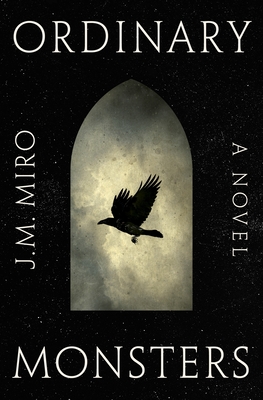 Ordinary Monsters: A Novel (The Talents #1)
Publication Date:
June 7th, 2022
Publisher:
Flatiron Books
Usually Ships in 2 to 5 Days
A grand historical fantasy in a unique world full of complex characters, including menacing and compelling villains. Anyone who appreciates a good Victorian setting or a swashbuckling thriller will enjoy this fresh take on the genre.
June 2022 Indie Next List
Description
NATIONAL BESTSELLER * "Charles Dickens meets Joss Whedon in Miro's otherworldly Netflix-binge-like novel." —The Washington Post
MOST ANTICIPATED SFF BOOK of 2022 by Tor, The Nerd Daily, BookBub, Philadelphia Inquirer, Goodreads, CrimeReads, Buzzfeed, Professional Book Nerds, and more!
BEST BOOK OF SUMMER 2022 by SheReads, Book Riot, Goodreads, Gizmodo, Daily Beast, Paste Magazine, and more!
IN THIS STUNNING HISTORICAL FANTASY, journey to the Victorian era, as children with mysterious powers are hunted by a figure of darkness in a battle of good vs. evil...
"Ordinary Monsters is a towering achievement: a dazzling mountain of wild invention, Dickensian eccentrics, supernatural horrors, and gripping suspense. Be warned... once you step into this penny dreadful to end all penny dreadfuls, you'll never want to leave." —Joe Hill, #1 New York Times bestselling author of The Fireman and Heart-Shaped Box
Charlie Ovid, despite surviving a brutal childhood in Mississippi, doesn't have a scar on him. His body heals itself, whether he wants it to or not. Marlowe, a foundling from a railway freight car, shines with a strange bluish light. He can melt or mend flesh. When Alice Quicke, a jaded detective with her own troubled past, is recruited to escort them to safety, all three begin a journey into the nature of difference and belonging, and the shadowy edges of the monstrous.
What follows is a story of wonder and betrayal, from the gaslit streets of London, and the wooden theaters of Meiji-era Tokyo, to an eerie estate outside Edinburgh where other children with gifts—like Komako, a witch-child and twister of dust, and Ribs, a girl who cloaks herself in invisibility—are forced to combat the forces that threaten their safety. There, the world of the dead and the world of the living threaten to collide. With this new found family, Komako, Marlowe, Charlie, Ribs, and the rest of the Talents discover the truth about their abilities. And as secrets within the Institute unfurl, a new question arises: What truly defines a monster?

Riveting in its scope, exquisitely written, Ordinary Monsters presents a catastrophic vision of the Victorian world—and of the gifted, broken children who must save it.
Praise for Ordinary Monsters: A Novel (The Talents #1)
Indie Next Pick for June
"Charles Dickens meets Joss Whedon in Miro's otherworldly Netflix-binge-like novel." —The Washington Post

"This grim but poignant debut showcases a bleak Victorian England, engaging characters, and the desire to belong." —Library Journal

"A compelling, complex tale—one that sucks you into the magically grotesque underbelly that seethes throughout this alternate history of the late 19th century... The worldbuilding is also immaculate and impressive in its detail and expansiveness... I can't wait for the next book comes out to see where the story goes from here." —Tor.com
"Miro intersperses crucial flashbacks to characters' backstories during intense moments, creating a gleeful and maddening ride between the past and the present as each character's arc is explored in full detail... Miro cleverly adapts beloved fantasy tropes and swirls them into Ordinary Monsters, a book about life and death, magic and monstrosities, with plenty of mysteries for readers to solve." —BookPage
"As effective a Gaslamp fantasy as I've read...The prose is compelling with a dreamy tendency, elaborating on details and then skipping over transitions to insist only on the most important parts. Miro likewise writes emotional and situational complexity with a light, deft touch...Engaging from start to finish, and well-written to boot." —Geekly, Inc.
"Haunting, tense, earth-shattering … A riveting mix of magic and terror." —Tamora Pierce, author of
Trickster's Choice and In the Hand of the Goddess

"Brilliant, subtle, bone-breaking. A book that creeps up on you, wearing brass knuckles." —Conn Iggulden, author of The Dangerous Book for Boys
"From the very first page, you're pulled into a world of hope and fear, dark and light, the known and the unimaginable. A world that is equal parts magic and pain. Readers should prepare themselves: there's nothing ordinary about Ordinary Monsters." —Alma Katsu, author of The Fervor and The Hunger

"Ordinary Monsters is one of my favorite books of the year—it's full of surprises, atmospheric as hell, and moves like a runaway train. Nothing in this book is what you expect it to be and it couldn't be more satisfying." —Kelly Braffet, author of Save Yourself and Last Seen Leaving

"J.M. Miro's Ordinary Monsters reads like a Dickensian X-Men. At once lush and refined, grounded and fantastical, it will pull you into its world in the way of the most fulfilling entertainments." —Andrew Pyper, bestselling author of The Residence and The Demonologist
"Epic, sprawling, and evocative—a sweeping and richly-imagined gaslight fantasy that takes readers on an incredible journey. Miro immerses us in the grime and grit of life, but also makes them believe that monsters and miracles are possible." —A.C. Wise, author of Hooked

"Miro's debut has a fascinating magical system...The vivid cinematic quality of the world and its magic will appeal to classic-fantasy lovers." —Booklist

"A fast-paced novel whose action and intrigue make short work of its daunting page count..." —Kirkus

"A complex, layered, and often uncomfortably bleak tale with a length that can occasionally feel daunting, but its rich, intriguing array of characters and consistently expanding scope make Ordinary Monsters anything but." —Paste Magazine

"This sprawling historical fantasy feels like a perfect blend of Miss Peregrine, Penny Dreadful, and Jonathan Strange & Mr. Norrell vibes." —Buzzfeed News
"A grand historical fantasy in a unique world full of complex characters, including menacing and compelling villains. Anyone who appreciates a good Victorian setting or a swashbuckling thriller will enjoy this fresh take on the genre." —Kristine Jelstrom-Hamill, Buttonwood Books and Toys, Cohasset, MA