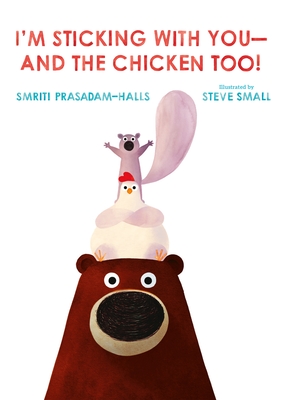 I'm Sticking with You--and the Chicken Too!
Publication Date:
April 18th, 2023
Usually Ships in 2 to 5 Days
Description
In this follow up to I'm Sticking with You, Bear and Squirrel are back, and they're perfectly in tune. They make merry music, they sing the same song—it's all going great, until Chicken comes along.
Chicken knows she could add something to Bear and Squirrel's band of two, but the duo is certain that three is a crowd! Fed up, Chicken leaves—and lands herself in hot water. Will Bear and Squirrel come to the rescue?
About the Author
Smriti Prasadam-Halls has been a children's writer and editor for more than ten years and has written several children's books, including the bestselling Jingle Jangle Jungle, illustrated by Axel Scheffler. Smriti lives in Richmond-upon-Thames.
Steve Small is a designer, an animator, and a BAFTA-nominated director. He lives in England, and I'm Sticking With You was his first picture book.