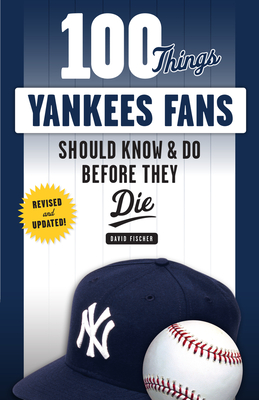 100 Things Yankees Fans Should Know & Do Before They Die (100 Things...Fans Should Know)
Publication Date:
April 15th, 2018
Usually Ships in 2 to 5 Days
Description
Most Yankees fans have taken in a game or two at Yankee Stadium, have seen highlights of stars like Mickey Mantle and Joe DiMaggio, and can tell the story of Babe Ruth's called-shot home run in 1932. But only real fans know who designed the team's iconic "NY" logo, have spent time at the Babe Ruth Museum, or have visited the site of the Yankees' original home ballpark. 100 Things Yankees Fans Should Know & Do Before They Die is the ultimate resource for true fans of the Bronx Bombers. Whether your favorite player is Lou Gehrig, Derek Jeter, or even Aaron Judge, these are the 100 things all fans need to know and do in their lifetime. In this revised and updated edition, featuring Judge and the Yankees' exciting next generation, author David Fischer has collected every essential piece of Yankees knowledge and trivia, as well as must-do activities, and ranks them all from 1 to 100, providing an entertaining and easy-to-follow checklist as you progress on your way to fan superstardom.