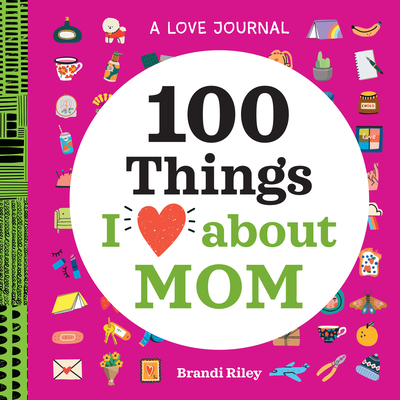 A Love Journal: 100 Things I Love about Mom (100 Things I Love About You Journal )
Publication Date:
December 7th, 2021
Publisher:
Rockridge Press
Usually Ships in 2 to 5 Days
Description
Create a heartfelt keepsake with this guided journal all about mom
All moms deserve to know how amazing and appreciated they are. A Love Journal: 100 Things I Love About Mom makes it easy to show your affection and gratitude, with a variety of prompts to help you recount important milestones, funny moments, and all the things that make your relationship with your mom unique.
Ideal for Mother's Day and birthdays, this journal offers:
100 prompts—With fill-in-the-blanks, top 3 lists, and more, this guided journal offers a range of prompts that encourage you to celebrate all facets of your mom, from the playful to the profound.
Extra love—Enjoy five additional pages that offer open-ended space for longer reflections, heartfelt notes, pictures, and mementos.
A heartfelt present—Create a meaningful gift for mom that will bring a smile to her face every time she opens it.
Give the gift of love with this unique and personalized present that your mother will treasure forever.
Praise for A Love Journal: 100 Things I Love about Mom (100 Things I Love About You Journal )
"Children grow up in the blink of an eye, and this beautiful journal is a priceless keepsake for any mom. Even if we know our kids love us, reading their thoughts and wishes warms your heart in the best way." —Jeannette Kaplun, parenting author, TV host, and founder of Hispana Global
"A Love Journal: 100 Things I Love about Mom is a sweet keepsake any mom would love to receive and look back on for years to come. The prompts are fun and creative, so children young and old aren't stumped as to what they should write, gathering thoughts and memories that mom will cherish forever." —Christine Suarez, homeschooling mom and founder of Blooming Brilliant
"I highly recommend everyone, no matter your age or gender, use this book as an opportunity to tell your mother and mother figures just what they mean to you and to let them know how much they are loved and appreciated. I gave this book to my own mother. Her love language is gifts, so receiving something heartfelt and sentimental was just the thing she needed. Being able to tell her how much I love her and have learned from her, even as an adult, was the gift that we both needed." —Katherine Shorter, certified pastoral counselor and founder of BeingYoked.com