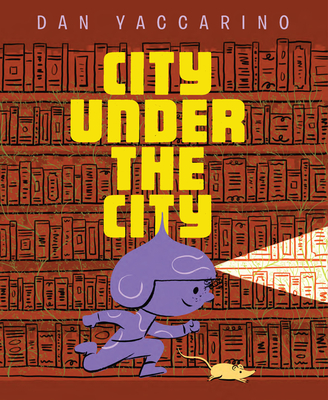 City Under the City
Publication Date:
November 15th, 2022
Usually Ships in 2 to 5 Days
Description
From acclaimed author-illustrator Dan Yaccarino comes an exhilarating adventure—set in a richly imagined alternate future—celebrating autonomy, community, and the power of reading, perfect for fans of The Rock From the Sky.
Bix lives with her family in a city where people rarely talk or play together, and no longer read books. Instead, they stare at small portable screens, monitored by giant eyeballs. The Eyes are here to help! With everything. But Bix would like to do things for herself. Running from an Eye, she discovers another world: the City Under the City. There, she befriends a rat who leads her to a library and its treasure trove of books and knowledge. As she explores the abandoned city, she's thrilled to learn about the people who lived there, with no Eyes. But she misses her family, and decides to head home, where, just maybe, she can help defeat the intrusive Eyes—and show her people how to think for themselves and enjoy each other's company. Told through Dan Yaccarino's stunning graphic style, this page-turning picture book/early reader crossover will spark a new appreciation of reading, books, independence, friendship, and family.
Praise for City Under the City
"The hottest dystopian picture book of the year. Read this book!" — Elizabeth Bird, Fuse Eight 
A Publishers Weekly Big Indie Book for Fall 
101 Great Books for Kids List, Evanston Public Library (IL)
★ The idea that one determined small child can help adults find a new way will surely inspire. Librarians and educators can hardly go wrong with a book that celebrates unimpeded literacy with such verve." —  The Bulletin of the Center for Children's Books, Recommended
★ "A stirring and thought-provoking tribute to the power of books, reading and human connection." —  Horn Book
★ "This is heady stuff made enticing to young readers through cartoonish art with comics-style panels and a well-chosen palette…. In City Under the City, Yaccarino does again what he did so well in Doug Unplugged and Doug Unplugs on the Farm: comment on the present through the experience of a child of the future." — Shelf Awareness
"Readers should appreciate the parallels between the Eyes and a familiar screen-obsessed surveillance culture, and resonate with Bix's thirst for knowledge and refusal to settle for the status quo." — Publishers Weekly
"A perfect adventure book to help illustrate the need to get off screens, spend time with loved ones, to appreciate reading and what books can do, and independence. A timely gift for any age." —  Kristin Vlahos, Tattered Cover
"The moral messaging is clear and strong (it's essentially The Matrix meets Pleasantville, but for second grades)…will appeal to emergent readers." — Booklist
"Will be an absolute winner with some of my intermediate classes as there's so much to unpack here. This is on the top of my list of books to order for my library." — Marilyn Belsham, elementary school librarian
"SUCH a delight. All of the illustrations are so charming and full of little details I'm still looking closely at. The use of the Eyes was so incredibly effective, and I loved the exploration of the city under the city. I can't wait to gift this book to several friends with kids as well as to make sure my library adds it to the collection." — Julia Whittington, Whitby Public Library, Canada
"Dan Yaccarino's art is lovely, as always. The colorful design and fun story will be inviting for young readers and a welcome addition to classroom libraries." — Dr. J Reads 
"I love having books to hope us see how our lives could be. Hopefully it inspires us to be more present." — Vanessa Eyre, Jordan District (UT), elementary school, Children's Literature Association of Utah 
"This story would be a great lesson about how not everything can be learned in front of a screen, as well as how important family is."—Jennifer Stewart, elementary educator