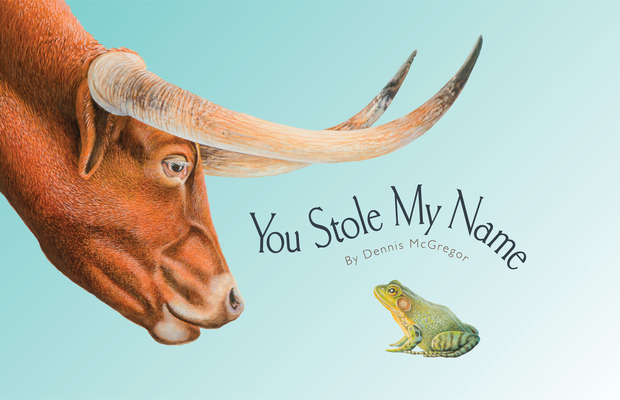 You Stole My Name: The Curious Case of Animals with Shared Names (Picture Book)
Publication Date:
August 8th, 2023
Publisher:
Blue Star Press
Description
Selected as one of Barnes and Noble's Best Books of 2023
This fun picture book for kids features vibrant, hand-painted illustrations of animals with curious questions like "Why does the bull trout share its name with the bull?"
You Stole My Name is a stunning collection of illustrations that takes you and your child on a colorful journey through the animal kingdom, telling the stories of the most interesting creatures and their namesakes. Written and illustrated by renowned artist Dennis McGregor, this book is also the perfect sing-along book for you and your child (Dennis sings through the book on YouTube!).
The pairs of interesting creatures include:
Cat & Catfish
Tiger & Tiger Shrimp
Turtle and Turtle Dove
Spider and Spider Monkey
And many more!
You Stole My Name is a beautiful and timeless "children's coffee-table-art book." It is the perfect picture book for children ages 3–10, making it a great birthday gift or Christmas gift.
Praise for You Stole My Name: The Curious Case of Animals with Shared Names (Picture Book)
"Poems that will be perfect for animal lovers, with gorgeous illustrations worthy of framing."
—Kirkus Reviews
"The museum-quality artwork in this oversized coffee-table style volume is big and beautiful, the verses are clever and funny, but it's the concept behind You Stole My Name that is unique, original, and sets it apart from all other pet and wildlife picture book collections for young children. Matching similar names given to two different species of animals, You Stole My Name by author/illustrator Dennis McGregor is a totally unique and immediately to be treasured addition to family, daycare center, preschool, elementary school, and community."
—Midwest Book Review
"You Stole My Name is, simply put, a work of genius. Cleverly composed and beautifully illustrated, it delights youngsters and oldsters alike, while exploring the wonders of the animal kingdom and the strange and glorious English language."
—Jim Cornelius, Editor, The Nugget Newspaper
"Exquisite, vivid illustrations and an engaging story will bring plenty of smiles and spark young imaginations. My granddarlings loved it. Yours will too!"
—Marie Bostwick, New York Times and USA TODAY bestselling author of Esme Cahill Fails Spectacularly

"Dennis McGregor's captivating illustrations are a delight on their own—but pair two similarly named creatures together and you have compound magic. With its wonderful use of color, light, and word play, You Stole My Name is a feast for the eyes and a treat not just for the kids it's geared toward, but for the adults who get to explore its pages before giving it to the children in their lives."
—Nicole Vulcan, Editor, Central Oregon's Source Weekly newspaper
"You Stole My Name and its sequel, You Stole My Name Too, are two of my all-time favorite picture books! With beautiful illustrations accompanied by clever verse, these books are a joy to look at, entertaining to read, and sure to elicit laughs when read along with kids. And they're educational to boot! What more could you want?!"
—Lane Jacobsen, Owner, Paulina Springs Books
"Absolutely astoundingly gorgeous illustrations in this charming picture book that celebrates the natural world. A kangaroo rat meets a kangaroo, a spider monkey greets a monkey; each of these mini poems and paintings celebrates the vibrancy and diversity of life on our planet and is a perfect gift for kids obsessed with animals."
—Caleb Masters, Inventory Manager at Bookmarks