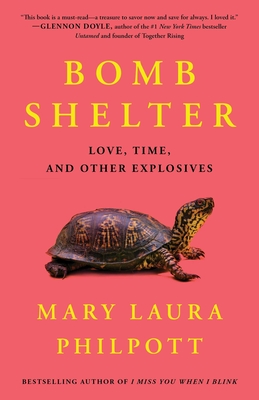 Bomb Shelter: Love, Time, and Other Explosives
Publication Date:
April 12th, 2022
Usually Ships in 2 to 5 Days
I have so much love for Bomb Shelter, as a mom, a woman, an animal lover, and simply as a fellow human. I love Mary Laura's humor and her compassionate and certain voice. I can't wait to share this book with EVERYONE!
April 2022 Indie Next List
Description
A New York Times Editors' Choice
One of NPR's Best Books of the Year
"A beautifully wrought ode to life…a precious gift to the world." —The Washington Post
From the bestselling author of I Miss You When I Blink comes a poignant and powerful new memoir that tackles the big questions of life, death, and existential fear with humor and hope.
As a daughter, mother, and friend, Mary Laura Philpott considered herself an "anxious optimist"—a natural worrier with a stubborn sense of good cheer. And while she didn't really think she had any sort of magical protective powers, she believed in her heart that as long as she loved her people enough, she could keep them safe.
Then, in the early hours of one dark morning at home, her belief was upended. In the months that followed, she turned to poignant memories, priceless stories, and a medley of coping mechanisms (with comically mixed success) to regain her equilibrium and find meaning in everyday wonders.
Hailed by The Washington Post as "Nora Ephron, Erma Bombeck, Jean Kerr, and Laurie Colwin all rolled into one," Philpott tackles the big questions of life, death, and existential fear—not to mention the lessons of an inscrutable backyard turtle—with hope, humor, and joy.
Praise for Bomb Shelter: Love, Time, and Other Explosives
"Bomb Shelter pierced my heart with its truth and beauty, humor and insight....This is a beautiful, moving, can't-put-it-down book that will stay with you long after you finish reading the final page." --Cheryl Strayed, New York Times bestselling author of Wild and Tiny Beautiful Things on her "Wild Reads" Literati Book Club Pick
"I was struck to my core--all kinds of overripe feelings and neglected memories shook loose--by Mary Laura Philpott, or more precisely, by her new masterwork, Bomb Shelter."  --The New York Times Book Review
"From a lifelong worrier who's also a reveler in the joys of human experience, engrossing essays on living with both."  --People
"An unforgettable memoir about holding it together when it's time to let go, Bomb Shelter met me exactly where I am and gently walked me towards humor and hope. This book is a must read—a treasure to savor now and save for always. I loved it." —Glennon Doyle, Author of the #1 New York Times Bestseller Untamed and Founder of Together Rising
"Bomb Shelter is a gorgeous, gut-wrenching memoir that drew me in immediately. Mary Laura Philpott puts words to the human condition in a life-affirming, joyful, and surprisingly funny way -- even as she leaves readers in tears. I'm blown away." —Lori Gottlieb, New York Times bestselling author of Maybe You Should Talk to Someone
"Each of these powerful, beautifully written essays is like a tiny grenade aimed straight at the heart. Mary Laura Philpott is a trustworthy guide, ushering us through the magnificent, harrowing terrain of being human. Trust me: you will laugh, you will cry. You will fall in love with her voice." —Dani Shapiro, New York Times bestselling author of Inheritance
"At the heart of Bomb Shelter is a truth parents know deeply: 'I felt the universe had entrusted me with so much more than I could possibly keep safe.' I put this book down feeling less anxious as a mother and more inspired as a writer. Why? Philpott reveals, page after page, that the love that makes us vulnerable is the same force that makes us powerful."  —Maggie Smith, bestselling author of Keep Moving and Goldenrod
"I have never met Mary Laura Philpott, but reading Bomb Shelter felt like sitting up all night talking with a dear friend who saved up all her best secrets to share with me. Delicious."  —Duchess Goldblatt, author of Becoming Duchess Goldblatt
"Witty, inspiring, and piercingly honest, this book will pull you in and it won't let go. Mary Laura Philpott has the gift of making the ordinary extraordinary as she invites you to reflect and laugh. You'll leave these pages with a deeper appreciation for this exceptional and explosive thing we call life." —Tembi Locke, New York Times bestselling author of From Scratch